Ultrasonic Cleaning Lines for automotive, electronics, etc .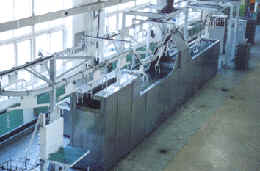 To apply the ultrasonic cleaning technology in mass manufacturing is the goal of TEI all the time. In July of 1992, a set of ultrasonic cleaning equipment of the largest capacity at that time, 32KW, was installed in the Beijing Light-Automotive Co. for the automobile chassis processing pre-painting. That's the first time that used ultrasonic equipment to handle the metal surface rust and oxidized film.
TEI made this full-automatic ultrasonic cleaning line, Model JXD-12/4, which has four cleaning positions, to handle 600,000 sets of auto electrical parts before assembly per year.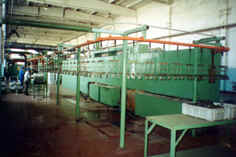 JXD-12/4, a full-automatic cleaning line, successfully get rid of the strong acid, use weak acid to handle the rust for brake-hoof before clinging. The hoof is dealt as four steps: ultrasonic rust-removing, ultrasonic risen and water spraying risen, anti-rust handling and drying.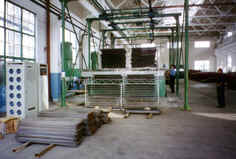 Ultrasonic line for mass steel sheet rust and oxidized-film removing, use weak acid to take the place of strong acid in DongFeng Auto Group Co.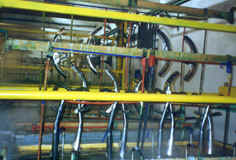 Ultrasonic Cleaning for Electroplating.

TEI also use ultrasonic to treat the polishing wax, rust and grease before electroplating. This line handles motor muffles as the pretreatment for electroplating.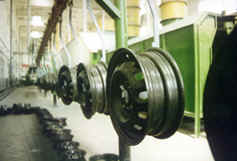 A ultrasonic cleaning line to remove rust and oxidized-film for auto wheels before coating.



Ultrasonic power : 16KW
Handling capacity: 2000 per day
Ultrasonic comprehensive treatment before painting.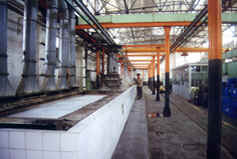 A five steps technology:
degreasing, risen, ultrasonic processing for degreasing, rust and oxidized film removing and phosphating, drying, successfully fulfil the chassis treatment before painting.